The 168th Wisconsin State Fair, presented by U.S. Cellular, is quickly approaching! This year's fair will take place Thursday, August 1 – Sunday, August 11, 2019.
As always, there will be dozens of rides, hundreds of food, thousands of animals, and a million ways for everyone to have a WonderFair time.
Check out the information below for the most up-to-date information, approved logos, and how to get your working media personnel onsite for coverage during the State Fair.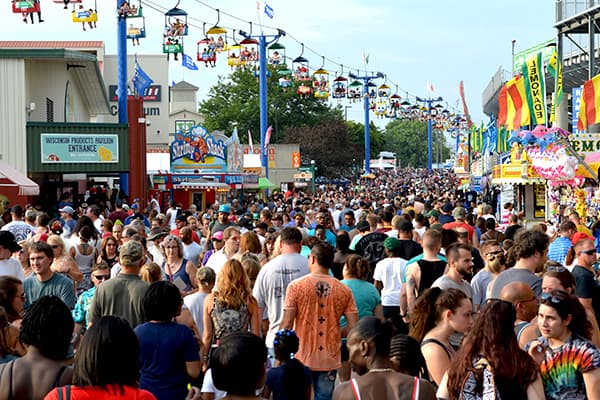 State Fair Media Kit
The State Fair will once again be family-friendly, full of fun and offer unbeatable value. We've compiled all of the details, from admission deals and daily features to new foods, attractions and more – just click the link below!
Please peruse this plethora of information, including logos, photos and a variety of helpful documents. We hope you'll join us in sharing stories about favorite fair traditions, like the enjoyed a Cream Puff, watching the agriculture shows riding the Giant Slide.
Media Ticket Requests
If you would like to request tickets for working media, please click the link below and review the request guidelines.
These individual tickets can be used one time, any day of the 11-day event. We are happy to help coordinate interview and photography requests, but please contact the communications team in advance. Contact info is included in the media kit.
Media ticket requests will be available in the summer of 2019. Tickets will be mailed prior to the fair; there is no formal Media Center for check in. Tickets can be used at any Fair Admission Gate. Late or last-minute requests will be considered, but not guaranteed.