SpinCity Amusement Ride & Game Area
Don't miss SpinCity – the Fair's exciting Amusement Ride and Game Area! SpinCity features a super assortment of more than 50 amazing rides and attractions.
Thirty fun games also await all adults and children alike, complete with plenty of great chances to win fabulous prizes!
The area will also offer well-shaded seating areas and plenty of delicious concessions.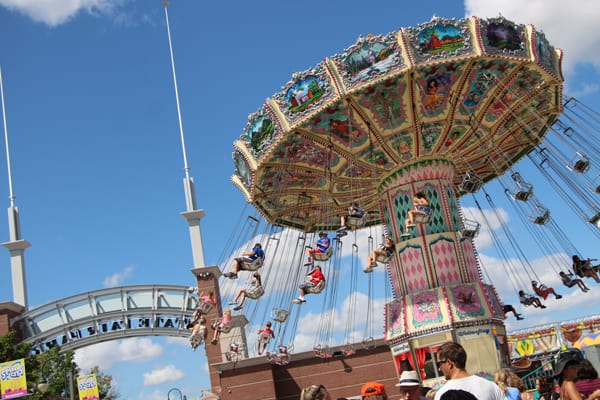 2020 SpinCity Tickets & Wristband Prices
All rides and games in SpinCity utilize an all-ticket system that require 3-6 tickets each.
Tickets are available in advance online or at the State Fair Ticket Office and during the State Fair at any SpinCity Ticket Booth.
GoRide wristbands allow for unlimited rides in SpinCity. Wristbands are only available for purchase until 7 pm each day and are only valid on rides until 9 pm on day of purchase.
Advance Discount Prices
Holiday Deals
(mid-November-December 31)
Price
40-Ticket Ride & Game Sheet
$24
GoRide Wristband
$37
Fair Deals
(June 1 – July 31)
Price
40-Ticket Ride & Game Sheet
$24
Prices at State Fair
State Fair
(August 6 – 16)
Price
Single Ticket
$1
25-Ticket Ride & Game Sheet
$22
40-Ticket Ride & Game Sheet
$32
GoRide Wristband
$42