Don't miss SpinCity – the Fair's exciting Amusement Ride and Game Area! SpinCity features a super assortment of more than 50 amazing rides and attractions.
Thirty fun games also await all adults and children alike, complete with plenty of great chances to win fabulous prizes!
The area will also offer well-shaded seating areas and plenty of delicious concessions.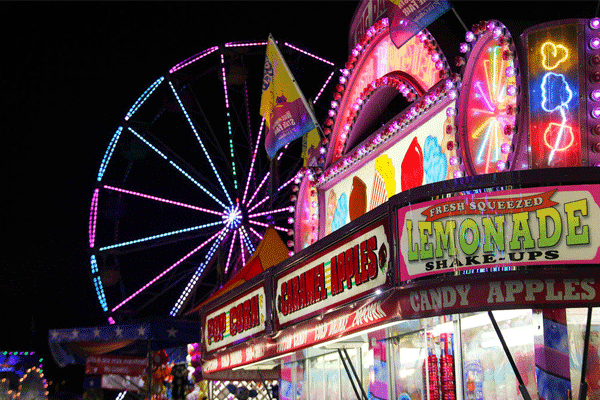 Ride Name
Minimum
Height
Ride Alone
Height
Beetle Bobs
36″
42″
Carousel
42″
42″
Daytona
32″
36″
Dive Bomber
32″
36″
Dragon Wagon
36″
42″
Drop N' Twist
42″
42″
Family Train
36″
36″
Ghost Pirate Dark Ride
36″
42″
Hog Rally
24″
34″
Ferris Wheel
30″
48″
Kite Flyer
42″
42″
Lady Bug
36″
42″
Lolly Swing
36″
42″
Monkey Maze
32″
42″
Monster Truck
36″
42″
Puppy Express
36″
42″
Raiders
36″
36″
Rockin' Tug
32″
42″
Samba Balloon
30″
36″
Slide
36″
42″
Tractor
34″
34″
Wacky Shack Kiddie Fun House
36″
42″
Winky the Whale
30″
32″
Games
Bouy Pitch
Drag A Fish
Duck Pond
Water Race
Ride
Minimum
Height
Ride Alone
Height
Air Maxx
55″
55″
Alpine Bobs
42″
42″
Arabian Daze Fun House
36″
42″
Big Bamboo Fun House
36″
42″
Cliff Hanger
48″
48″
Equinox
55″
55″
Galaxy Roller Coaster
47″
51″
Haunted Castle
40″
40″
Juke Box Music Fun House
36″
42″
Magic Maze
36″
42″
New York-New York
42″
47″
Orbiter
48″
48″
Pharaoh's Fury
48″
48″
Scooters
42″
48″
Sizzler
42″
52″
Sky Flyer
48″
48″
Sky Master
48″
48″
Starship
42″
42″
Techno Power
52″
52″
The Beach Party
48″
48″
Tilt-A-Whirl
36″
46″
Tornado
38″
42″
Wave Swinger
45″
45″
Zero Gravity
42″
42″
Zipper
48″
48″
Games
Balloon Pop
Basketball
BlockBuster
Bottle Up
Break-a-Bottle
Frog Bog
Goblet I
Goblet II
Gun Ball
Lean 'n Toss
Long Range Basketball
Machine Gun
Milk Can
Mini Ball
Mini Basketball
One Ball
Rainbow Toss
Ring-A-Bottle
Vertical Water Race
Wacky Water Race
Water Race Balloon Pop
Whack A Mole