Each year thousands of animals are exhibited at the Wisconsin State Fair, and most of these animals do not stay for the entire 11 days of the Fair.
For the safety of the animals, exhibitors and Fairgoers, barns must be closed to allow animals to leave and the barns to be cleaned for the arrival of new animals and new exhibitors.
On days the barns close early for animals to leave, certain streets in Ag Village will be closed or have limited access.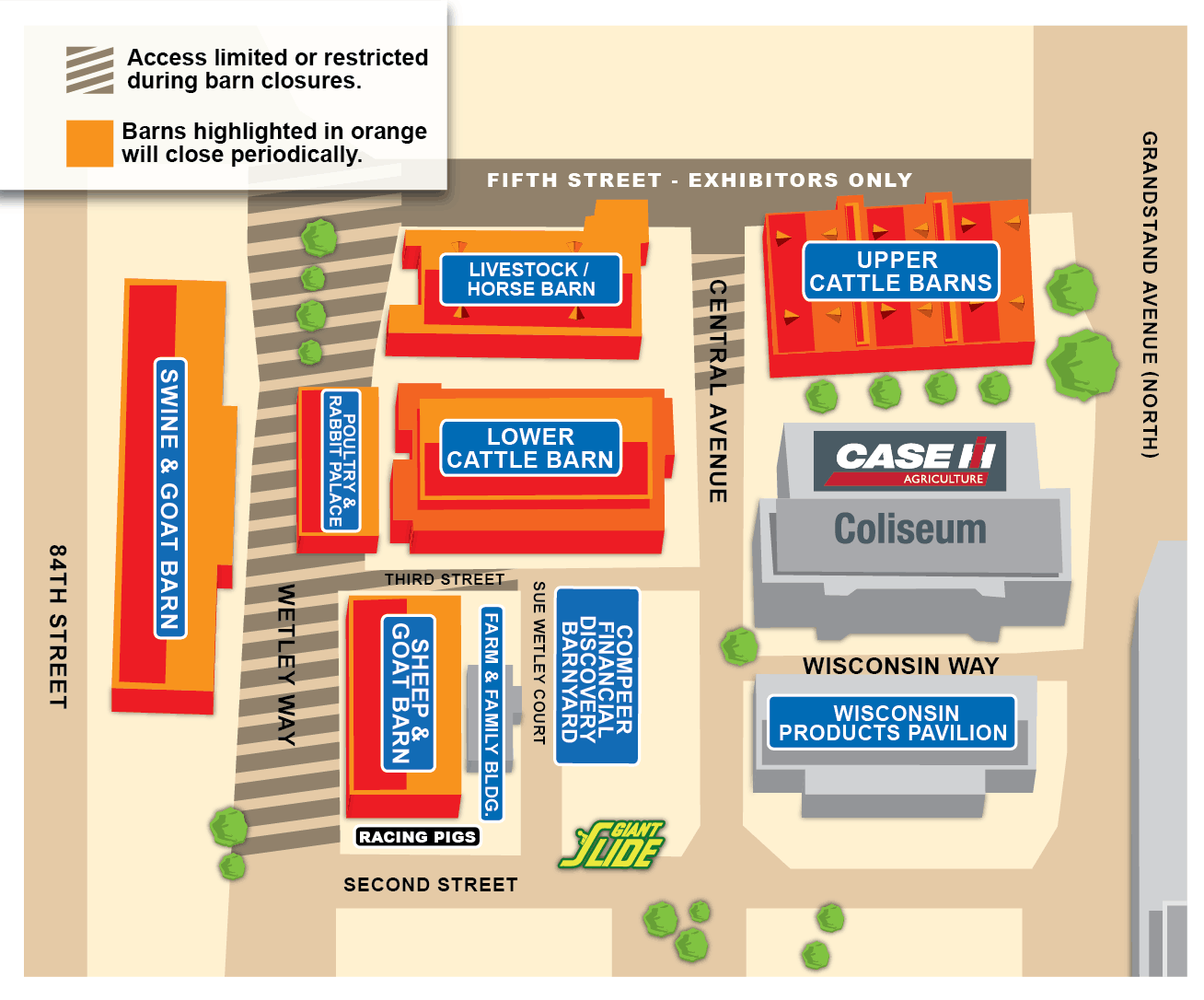 Barn Closures Schedule
| Barn | Closure Time |
| --- | --- |
| Sheep & Goat Barn | 4 pm |
| Livestock/Horse Barn | 6 pm |
| Barn | Closure Time |
| --- | --- |
| Swine & Goat Barn | 2 pm |
| Poultry & Rabbit Palace | 3 pm |
| Livestock/Horse Barn | 6 pm |
| Barn | Closure Time |
| --- | --- |
| Livestock/Horse Barn | 2 pm |
| Barn | Closure Time |
| --- | --- |
| Cattle Barns | Noon |
| Sheep & Goat Barn | 2 pm |
| Swine & Goat Barn | 2 pm |
| Poultry & Rabbit Palace | 4 pm |
| Barn | Closure Time |
| --- | --- |
| Livestock/Horse Barn | 2 pm |
| Poultry & Rabbit Palace | 6 pm |
| Barn | Closure Time |
| --- | --- |
| Cattle Barns | 1 pm |
| Poultry & Rabbit Palace | 2 pm |
| Sheep & Goat Barn | 3 pm |
| Swine & Goat Barn | 3 pm |
| Livestock/Horse Barn | 5 pm |
| Barn | Closure Time |
| --- | --- |
| Livestock/Horse Barn | Noon, 4 pm |
| Poultry & Rabbit Palace | 3 pm |
| Barn | Closure Time |
| --- | --- |
| Sheep & Goat Barn | 4 pm |
| Livestock/Horse Barn | 6 pm |