In 2019, the Wisconsin State Fair welcomed over 1,000,000 visitors as we celebrated our 168th annual Fair.
Be part of our successful event! With multiple marketplaces featuring over 600 vendors who provide every imaginable type of food, jewelry, ware, home good and product, the Fair is a shopper's delight and an ideal place to promote and sell your products. Many of our vendors return every year to display and sell their products and services at this exciting, 11-day event.
To be considered for the Wisconsin State Fair, please follow the application process as outlined in the Applications & Forms linked below.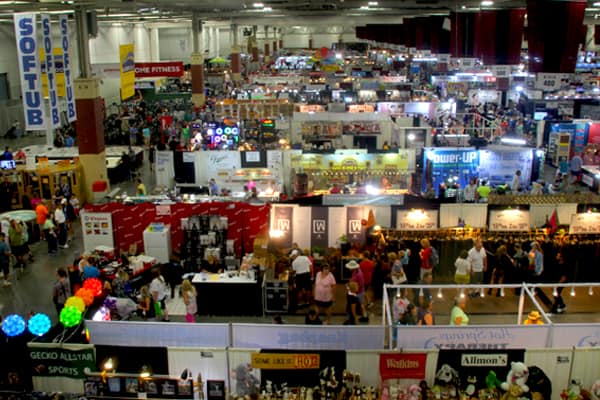 New Vendor Selection Process
Thank you for your interest in participating at the Wisconsin State Fair!
The number of new applications received each year is generally greater than the space we have available since the majority of our vendors choose to return each year. Unfortunately, not all applicants will receive a Vendor License Agreement to fill the remaining spaces.
New applicants are selected based on the following criteria:
Completed online application (including references and color photos)
Uniqueness of product or service, lack of duplication
Appearance and professionalism of display in color photos submitted with application
Availability of appropriate space
References, referrals, experience and/or written recommendations
Selection Process Timeline:
Early January:  Application posted and available on wistatefair.com
Winter:  Space is allocated to all returning vendors.
Winter/Spring:  New vendor spaces are offered as space becomes available.
Selection of new vendors will continue until all available space is filled. If your application is selected, you will be notified immediately, and a Vendor License Agreement will be sent to you.
Submitting an Application:
Applications must be submitted via the link provided below. Photos must be emailed to vendorservices@wistatefair.com. Please do not send a deposit. Submitting an application does not guarantee a space at the Wisconsin State Fair.
All applications are kept on file for 2 years. However, if your application is not selected, we suggest you fill out a new application annually.
Commercial Vendor Information & Application
Food & Beverage, Attraction Vendor Information & Application
FAQ – Vendor Applications
There's a lot that goes into becoming a vendor at the Wisconsin State Fair. Please see below for answers to the most frequently asked questions.
Q: Can I choose my booth location?
Angela Sheahan
2019-07-23T12:09:42-05:00
A: You may prioritize your booth location on the application. However, we will not know what areas are available until we have processed all requests from returning vendors. Our team will try to accommodate applicants as best we can. We place all vendors in locations that we feel will be beneficial to both the vendor and Fairgoer.
2020 Harvest Fair, September 25-27
Thank you for your interest in the 2020 Harvest Fair!
Admission to Harvest Fair is FREE, and the three day event draws roughly 75,000 each year. This event coincides with World Beef Expo, which is also held at Wisconsin State Fair Park over the same weekend.
Harvest Fair always falls on the last full weekend in September, which is September 25-27 for 2020.
If interested in being a vendor at Harvest Fair, please look through the 2020 Harvest Fair Vendor Space Information and complete our 2020 Harvest Fair Vendor Application.
Contact Us
Questions about the above information? Call us at 414-266-7040 or email us at vendorservices@wistatefair.com and we'd be happy to answer them for you.