The Wisconsin State Fair Park is not hiring for the Alternative Care Facility (ACF).
The State of Wisconsin is currently recruiting healthcare professionals to staff the ACF. Interested healthcare workers need to apply through the website Wisconsin Emergency Assistance Volunteer Registry (WEAVR) managed by the Wisconsin Department of Health Services (DHS).
For additional information on the ACF please click here.
Current Opportunities

Year-Round and Seasonal Positions
The below-listed positions are either seasonal (3 to 6 months) or year-round (full-time or part-time) positions and open to any qualified candidate*, unless otherwise noted. Click on the position title to open the job announcement.
Internal Positions
The positions listed below are open only to those currently employed by Wisconsin State Fair Park. Click on the position title to open the job announcement.
No internal positions opened at this time – see above for all position openings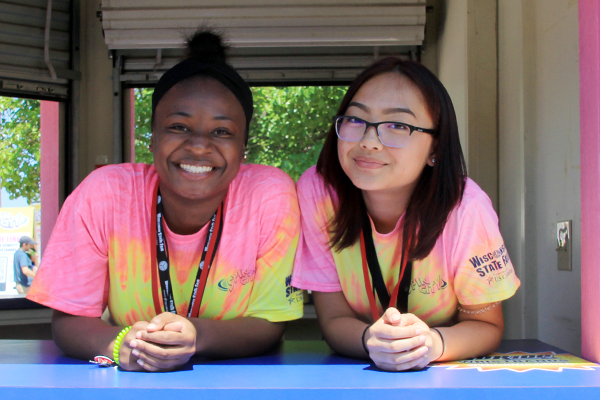 Fair Only Positions
As of today, a formal decision has not been made whether or not the Wisconsin State Fair will go on as planned for August 6 – 16, 2020, or will be cancelled. We will continue to monitor the COVID-19 pandemic and update this page for prospective and returning employees as necessary, keeping safety the top priority.
*Please Note: All Limited Term and Seasonal Employment Positions, including those for the annual Wisconsin State Fair, require Wisconsin Residency, as defined in § 6.10(1), at the time of hire and throughout employment with Wisconsin State Fair Park.
Future Opportunities
If you'd like to receive email notifications of positions available at State Fair Park, please go to www.wisc.jobs (the State of Wisconsin's employment website) to create an account and enroll in E-Notify. When creating a new Search in E-Notify, be sure to tailor it such that you receive notifications from the Agency/Campus of State Fair Park.
Should you have any questions about creating an account or enrolling in E-Notify, please see the 'FAQs' section of the www.wisc.jobs website. Please do not contact State Fair Park for questions about www.wisc.jobs as we are not the owners of the website.
NOTE: Not all positions that are posted on State Fair Park's website are posted on www.wisc.jobs.
Wisconsin State Fair Park does not accept unsolicited applications or resumes for employment to any of our staff email addresses. Please see above for a list of positions we are currently recruiting for and follow the instructions to apply, if qualified.