Wisconsin State Fair Park Police
Our mission at the Wisconsin State Fair Park Police Department (SFPD) is to provide our more than 1 million guests a safe and enjoyable environment every year.
As a department, we will continue to upgrade our professional potential and provide the highest law enforcement services possible.
We hope that your visits to the Wisconsin State Fair Park creates lasting memories that can be shared with family and friends in the coming years.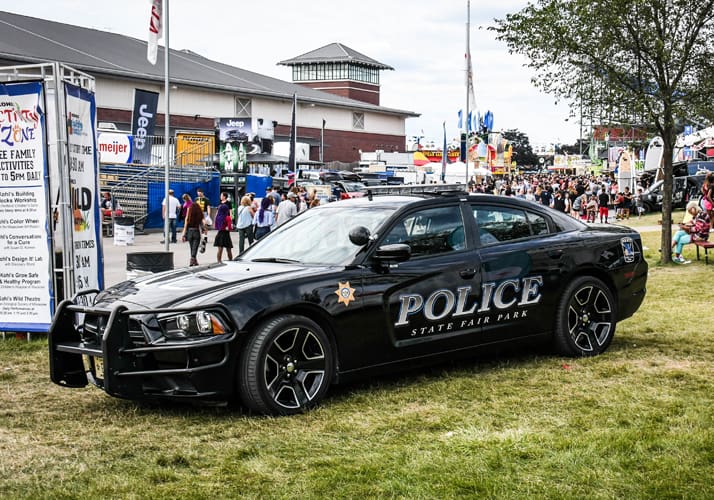 SFPD History & Training
The Wisconsin State Fair Park Police Department (SFPD) has a rich history that dates back to 1907 when it was formed as a police entity.
Today, the SFPD provides uniformed patrol of the Fair Park 365 days a year. Our authorized staff consists of 115 sworn officers and all new hires successfully complete a rigorous hiring process that includes oral interviews, extensive background checks, medical exams, drug screening and psychological testing before they are sworn in.
The department also has a number of specialized units that include Mounted, Bike, Dignitary Protection and the Major Incident Response Team (MIRT). These specialized units enhance and support our uniform patrol division during the Wisconsin State Fair and other large events.
SFPD during the annual Wisconsin State Fair
In addition, the SFPD has implemented a regional Police Command Center for the annual State Fair. The primary function of the Command Center is to coordinate police services of multiple law enforcement agencies during the 11-day run of the Wisconsin State Fair. The Command Center is staffed by police representatives from the State Fair Park, Milwaukee and West Allis Police Departments.
We also work with and coordinate our law enforcement efforts with the Milwaukee County Sheriff's Office. The Police Command Center ensures a rapid response for all law enforcement services inside the Fair Park and to our surrounding neighborhoods. These responses include calls for medical services, traffic accidents, lost children, critical weather reports and a multitude of other services.