Come early, hungry and ready to graze through the Fair at more than 200 concession locations that offer over 800 different food and beverage options.
There are plenty of delicious favorites, like butter-dripping corn-on-the-cob and steaming hot deep-fried cheese curds, or be adventurous and try one of the many new foods such as Deep-Fried Banana Bread and Blazin' Jalapeno Deep-Fried Olives.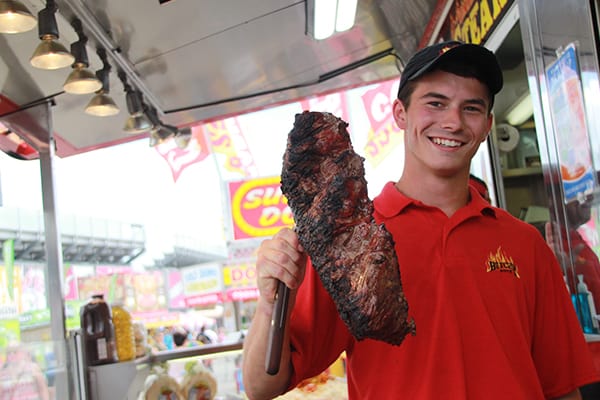 Start Your State Fair Food Adventure Here
Don't Miss These "Fare" Favorites
Come hungry on Tuesday, August 6 and sample a variety of Fair foods available at more than 40 food vendors who offer smaller sizes of your favorite items at reduced prices! Pick up a Crazy Grazin' brochure at any Fair Information Center and look for posters displayed at participating vendors.
Pick up a glass of ice cold milk for only 50 cents, available in a variety of your favorite flavors, on South Grandstand Avenue near the Exposition Center.
Fair "Fare" Come early, hungry [...]
The Wisconsin State Fair certainly has a reputation for unique and unusual foods and this year was no exception at the Fair's Sixth Annual Food Competition, The Sporkies, presented by Journal Sentinel. Eight finalists have been selected from 34 entries, and a panel of celebrity judges will chose the recipients of three Golden Spork Awards.
The iconic Original Cream Puff, sold at the Fair since 1924, is the most popular food item among Fairgoers – an average of 400,000 are consumed each year! The delicious cream-filled pastries can be enjoyed individually or in three- or six-packs.