The Sporkies presented by Journal Sentinel
The Sporkies, the Fair's annual food competition, is back for the 7th year encouraging vendors to take their unique food creations to the next level and make you extra hungry at the same time.
Look for the giant 13-ft. Sporkies trophies displayed at each finalist's location, then vote for your favorite items via text message keyword, social media using #FairgoersFave or at the Guest Services Pavilion during the Fair.

Watch the final judging as local celebrities choose this year's winners on Wednesday, August 7 at the Associated Bank Amphitheater at 11 am.
The Sporkies Finals will be hosted by Kyle Cherek, and judged by the following local celebrities:
Angelica Duria – Anchor and Reporter for FOX 6 News
Kathy Flanigan – Entertainment, Features and Beer Reporter for Journal Sentinel
Nick Chipman – Food Blogger and Founder of DudeFoods.com
Jim Villa – Former State Fair Park Board Member
Peter Feigin – Milwaukee Bucks President
Fairgoer Judge – Meg M. from Shorewood, WI
They will be joined by special guests Bango and Cravin D. Cream Puff!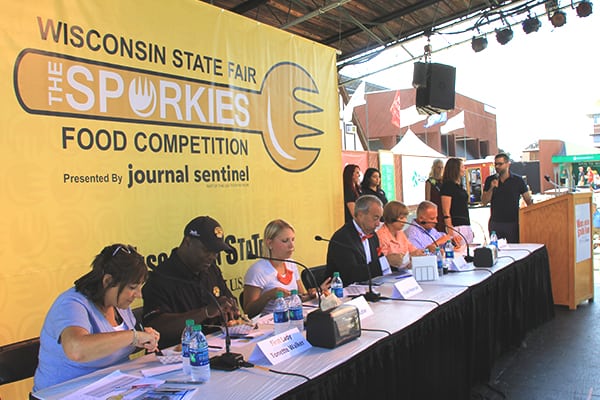 Congratulations to Past Sporkies Winners!
2018:
2017:
2016:
First Place: Root Beer Float Cake – Sprecher Landing & Sprecher Root Beer Everything
Second Place: Klement's Famous Racing Sausages Corn Dog – Saz's Bavarian Haus
Third Place: Deep Fried Ol' Fashioned – Water Street Brewery
#FairgoersFave Winner: Klement's Famous Racing Sausages Corn Dog – Saz's Bavarian Haus
2015:
First Place: Wis-Cone-Sin – Water Street Brewery
Second Place: Bacon Bottom Porker Pizza – Brew City
Third Place: Cheesy Smoked Gouda Sidewinder Fries – Tropics at the Fair
#FairgoersFave Winner: Deep Fried Pretzel Crusted Brownies On-a-Stick – Saz's Ribs
2014:
Best Tasting – Dolce Panino from La Coppa Gelato
Most Creative – Dolca Panino from La Coppa Gelato
Grand Champion – Dolce Panino from La Coppa Gelato
#FairgoersFave Winner – Bacon Wrapped Cherrywood Smoked Pork Belly On-A-Stick – Saz's Ribs
2013:
Best Tasting – Island Slaw from Island Noodles
Most Creative – Mela Fritta Gelato On-A-Stick from La Coppa Gelato
Grand Champion – Mela Fritta Gelato On-A-Stick from La Coppa Gelato