Media Ticket Request Guidelines
Complimentary admission tickets and parking passes are available to WORKING MEDIA PERSONNEL COVERING THE FAIR.
Please read the following guidelines regarding media ticket requests for the 2019 Wisconsin State Fair.
Thank you for your interest, and we look forward to working with you and seeing you at the 2019 Wisconsin State Fair!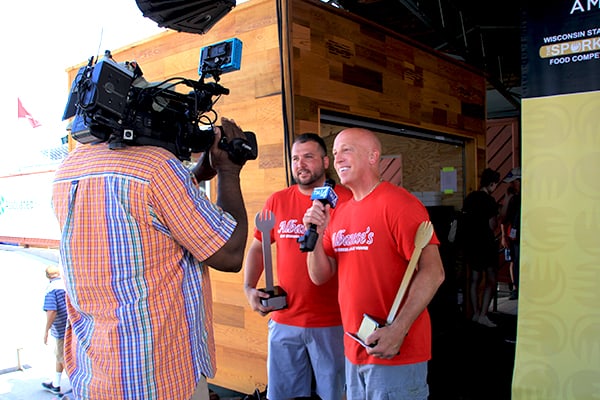 Interviews & Photography
If you have interview or photography requests you would like us to coordinate, please plan accordingly and call or email ahead of time.
Employees of the fair may not talk to media unless approved by the Communications Department. Please contact the Communications Department to coordinate an interview.
You may film or photograph fair events and activities, with the exception of the Main Stage presented by Potawatomi Hotel & Casino and Associated Bank Amphitheater headliners. Media clearance for these artists is required in advance of the fair, so if you are interested, you must let us know ahead of time.
For television stations that wish to send a live truck to the Fair Park and have a specific location request, please contact the Communications Department prior to your arrival. We will do our best to reserve your location, advise you of which gate to enter, and coordinate a required escort.
Ticket Options
Daily Admission Tickets: Valid for one individual admission to the fair for one day.
Single Parking Tickets: We have a limited quantity, and they are not valid for admission to the fair. Each parking ticket is only valid for one entry to the Fair Park parking lots. No re-entry is allowed. Media parking is available in the Milwaukee Mile infield on a first come, first served basis. Tickets may also be used for the North Parking lot (near I-94).
Main Stage presented by Potawatomi Hotel & Casino: PAID reserved concert tickets for members of the media wishing to review performances are available upon ADVANCE request. Any complimentary review tickets must be secured through the artist. Interviews/photography/broadcast coverage must be arranged in advance by contacting the artist's publicist or management firm and/or Communications Department.
Entrance & Ticket Pick Up Instructions
Entrance Instructions:
There will be no formal Media Center for check-in during the 2019 State Fair. Your tickets will be mailed to you.
If you have your ticket upon arrival, you may enter the Fair Park via any admission entrance.
If you need assistance with interviews or special access, please call before you arrive so the Communications Department can direct you to the correct area and prepare for your arrival. Live trucks are asked to enter through Gate 5, off S. 84th Street unless otherwise arranged in advance.
Remember, there are no left-hand turns into the Fair Park, so you will want to utilize W. Greenfield Avenue to get to 84th Street and head north. Trucks may enter at other gates; however, an escort will be required, and advance notification is mandatory. Please add extra travel time as necessary.
Ticket Pick Up Instructions (During Fair):
Late or last-minute media ticket requests may be honored based on time and date of submission. If last-minute requests are fulfilled, you will need to pick up your tickets prior to entry, but please be advised that the State Fair Ticket Office staff is extremely busy prior to and during the fair, so you will be assisted as quickly as possible on a first-come, first-served basis.
Media ticket pick-up is located in the State Fair Ticket Office at 7722 W. Greenfield Avenue.
The State Fair Ticket Office opens at 8 a.m. and there is temporary parking, but this lot is NOT for extended parking.