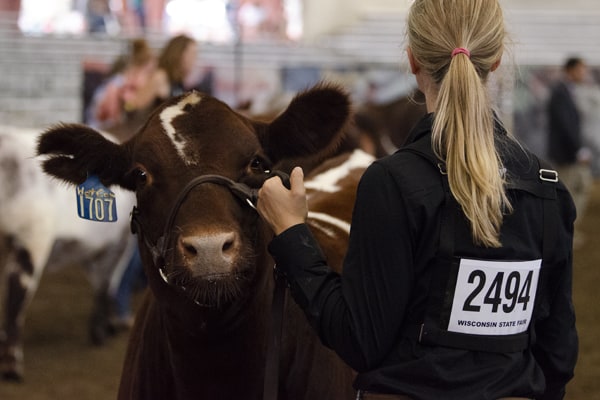 Questions regarding entering can be emailed to: entryoffice@wistatefair.com or call 414.266.7000 (main line) or 414.266.7052 (Entry Office from April 15 – August 16) Fax Number (Prior to Fair): 414.266.7057
Our mailing address is:
Wisconsin State Fair
Entry/Agriculture Department
640 S 84th St
West Allis WI 53214
Volunteer Adult Contact Information
2019 DNA/RFID ANIMAL IDENTIFICATION
Beginning in 2019, all Wisconsin State Fair DNA identification requirements for Beef, Sheep and Swine (market and non-registered breeding stock) must be submitted by May 23rd to Wisconsin State Fair (DNA Hair) or to the Wisconsin Livestock Identification Consortium (DNA Tissue). To read more click here
Online sales of 840 ear tags or DNA hair kits from Wisconsin State Fair are now closed. Only walk up orders (paid with a credit card) will be accepted from May 20th – 23rd. Our office hours for walk up orders are Monday – Friday: 8 am to 4:30 pm in the Administrative Offices located in the basement of the Tommy G. Thompson Youth Center (640 S 84th St, West Allis WI 53214).
Wisconsin State Fair is pleased to announce continuation of the national certification program "Youth for the Quality Care of Animals" (YQCA). Completion of the program will be required for all youth who exhibit animal projects (Beef, Dairy, Goats, Poultry, Rabbits, Sheep and Swine) at the 2020 Wisconsin State Fair Junior Shows. For more information go to yqca.org
Animal Shows Age Requirements: Participation in the Wisconsin State Fair Junior animal shows (beef, sheep, swine, dairy, goats, poultry and rabbits) is open to any boy or girl 12-19 years of age as of January 1st of the current year. Youth must be an active/participating member in good standing of a bona fide, adult-supervised Wisconsin animal-based youth organization by March 1st of the current year.
For 2019 the following youth organizations are approved for exhibitors showing in Junior Rabbit shows:
Wisconsin 4-H
Wisconsin FFA
Wisconsin Junior Angus Association
Wisconsin Junior Ayrshire Association
Wisconsin Junior Brown Swiss Association
Wisconsin Junior Guernsey Association
Wisconsin Junior Hereford Association
Wisconsin Junior Holstein Association
Wisconsin Junior Jersey Association
Wisconsin Junior Southdown Association
Wisconsin Show Pig Association
Wisconsin Rabbit Breeders Association
Junior exhibitors will submit all entry information and fees directly to State Fair online. Questions regarding entering the 2019 Wisconsin State Fair can be emailed to: entryoffice@wistatefair.com or call 414.266.7000.
OTHER JUNIOR FORMS/INFORMATION