August 9-12, 2021
Junior Beef Cattle exhibitors must be between the ages of 12-19 by January 1st of the current year and have completed YQCA certification.
See below for full details on entry requirements, show information, and upcoming deadlines.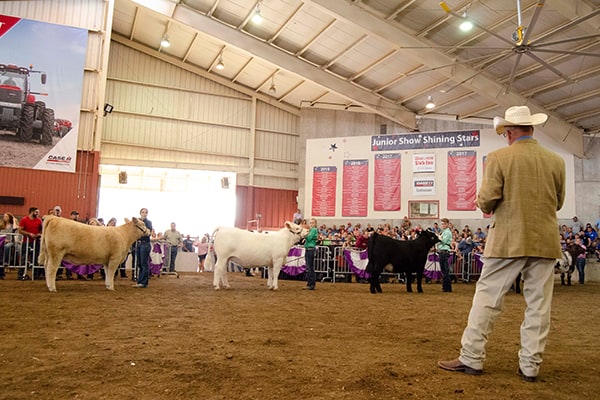 Junior Beef Cattle Entry Information
Junior Beef Cattle Details
2021 Junior Beef Entry Information
2021 Wisconsin State Fair Performance Division
For 2021, Wisconsin State Fair Performance Beef and Sheep division contests have been modified to incorporate the components of ultrasound carcass merit (60%) and visual appraisal (40%). Rate of gain evaluation will not be included for 2021; therefore, weigh in sites will not be offered in winter for junior market steers or spring for junior market lambs. Junior market barrows will continue to be evaluated on ultrasound carcass merit (60%) and visual appraisal (40%).
Show Stalling & Information
Beef cattle will be stalled in the Upper & Lower Cattle Barns and all classes will be judged in the Case IH Coliseum.
Guides for Cattle Barn stall and aisle dimensions:
DNA Identification Program
All Wisconsin State Fair DNA identification requirements for Junior Beef, Sheep and Swine (market and non-registered breeding stock) must be submitted by the Junior entry deadline to Wisconsin State Fair. More information available here. DNA hair kits and 840 ear tags are on sale here.
Governor's Blue Ribbon Livestock Auction
Livestock entered into this competition may be eligible for scholarships provided by the Blue Ribbon Sale of Champions Foundation and Governor's Blue Ribbon Livestock Auction. For more details on these opportunities, please visit gbrla.com.
General Junior Show Rules & Information
Questions?
Mailing Address:
Wisconsin State Fair
Entry Department
640 S 84th Street
West Allis WI 53214