August 3-8, 2021
Junior Dairy Cattle exhibitors must be between the ages of 12-19 by January 1st of the current year and have completed YQCA certification.
See below for full details on entry requirements, show information, and upcoming deadlines.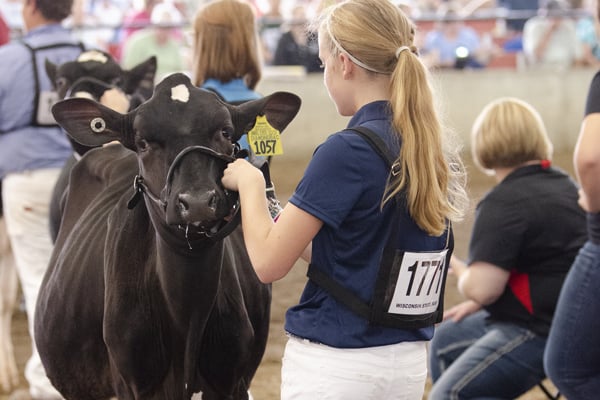 Junior Dairy Cattle Information
Junior Dairy Cattle Entry Information
2021 Junior Dairy Theme: Celebrate Wisconsin Dairy
Entry Deadline:
June 9, 2021 – 7 pm (Central Time): Online entries close
June 16, 2021 – 7 pm (Central Time): Late Online entries close
Entry Information:
Entries Closed

Junior Holstein Class Breaks (Available at the Fair after check in)
Show Stalling & Information
Guides for Cattle Barn stall and aisle dimensions:
Show stalling information will be available in Late July:
Information on show release order can be found here:
Dairy cattle will be stalled in the Upper & Lower Cattle Barns and all classes will be judged in the Case IH Coliseum.
General Junior Show Rules & Information
Questions?
Mailing Address:
Wisconsin State Fair
Entry Department
640 S 84th Street
West Allis WI 53214