Courtesy of the Wisconsin Department of Agriculture, Trade and Consumer Protection (DATCP)
Connect with fun in the Farm & Family Building! All activities are free thanks to the amazing staff at DATCP.
Located in Ag Village on Sue Wetley Court, across from the Compeer Financial Discovery Barnyard.
Open daily from 10 am – 4 pm.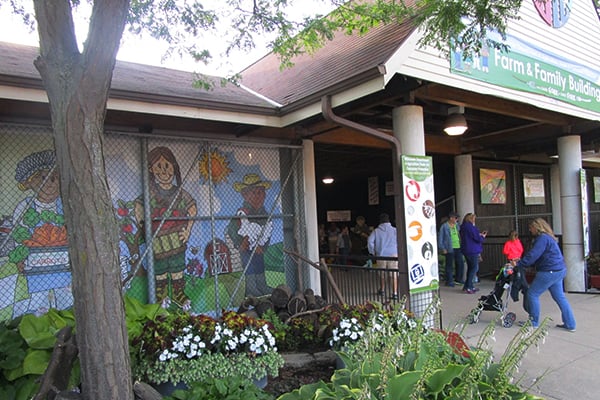 Free Activities in the Farm & Family Building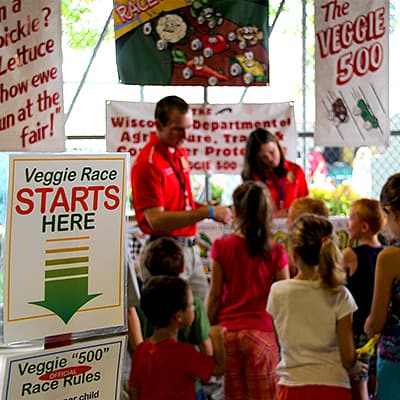 Race a potato Porsche or carrot Camaro in the Veggie 500, a State Fair staple since 1993.
Race the Veggie Cars with the Wisconsin State FFA Officers each day.
Check out the colorful vegetable cars, talk to our pit crew, and cheer your favorite car down the track.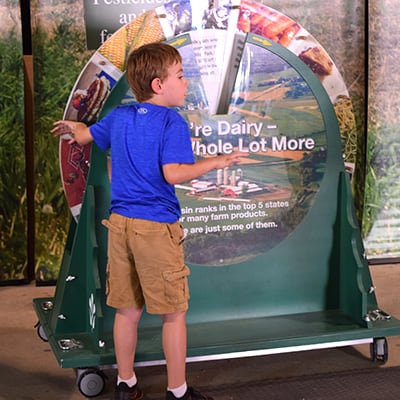 Stop by to play any of these fun games:
Consumer Find-It!: Stop by to search for pictures on our magnet board, and take home some important consumer tips.
Animal health biosecurity zone: Spin the wheel to find out what animal you can help identify ways to keep it healthy through practicing biosecurity. If your animal gets sick learn how your veterinarian can help you get back on track.
Cow Pie Pitch: Give our cow pies a toss and find out how farmers manage manure to grow health crops and protect water quality.
Keeping Cold Foods Cold: Learn more about which foods need refrigeration for food safety.
Growing Wisconsin agriculture: Play our version of Plinko to learn more about Wisconsin food and agricultural products enjoyed locally, nationally, and around the globe.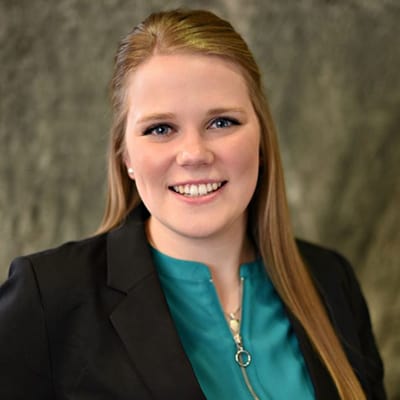 Alice in Dairyland will greet visitors at certain times each day. Alice in Dairyland is Wisconsin's agriculture ambassador and is ready to share the importance our Wisconsin's diverse agriculture industry.
At any time, fairgoers can stop by to see a life-size cutout of Alice and pick up a poster or postcard from the Dairy Farmers of Wisconsin.