SpinCity Amusement Ride & Game Area
Don't miss SpinCity – the Fair's exciting Amusement Ride and Game Area! SpinCity features a super assortment of more than 50 amazing rides and attractions. Thirty fun games also await all adults and children alike, complete with plenty of great chances to win fabulous prizes! The area will also offer well-shaded seating areas and plenty of delicious concessions.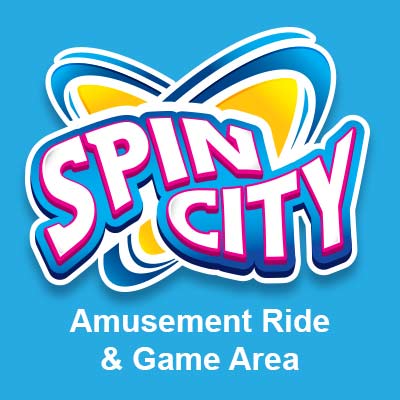 SPINCITY TICKET INFORMATION
SpinCity utilizes an all-ticket system and each ride, game or attraction requires approximately 3-5 tickets. During the Fair, save BIG when you purchase 40 Ticket Sheets for $30 or 25 Ticket Sheets for $20 at any SpinCity ticket booth. Single tickets are also available for $1 each.
GoRide Wristbands will be available for $35 Monday – Friday and $40 on Saturday and Sunday for Fairgoers to enjoy an entire day of rides in SpinCity (GoRide Wristbands are not valid on SpinCity games, must be purchased by 7 pm and are only valid for rides until 9 pm on the date of purchase).
SPINCITY DEALS
There are plenty of ways to SAVE during a visit to SpinCity. Visit our SpinCity Deals page to learn more about discounted tickets, Bargain Book coupons and a special single-day discount.
Featured Rides & Attractions
Fireball
This high speed, vertical 360 is sure to thrill.
New York, New York Funhouse
This four-story funhouse ends with a spiral slide from top to bottom!
Equinox
The Equinox takes riders on a dizzying journey 75 feet above the ground, orbiting on three axes.
Magic Maze Funhouse
Fairgoers will step into the future with this double decker, wizard-themed fun house.
Drop N Twist
This new kids' ride gives little ones a bird's eye view of SpinCity!
Zero Gravity
The thrilling motion of the ride will hold you in place.
Galaxy Coaster
A classic roller coaster ride.
SPINCITY RIDE LIST
| | | |
| --- | --- | --- |
| Ride | Minimum Height | Ride Alone Height |
| Alpine Bobs | 42″ | 42″ |
| Arabian Daze Fun House | 36″ | 42″ |
| Beetle Bobs (Kiddie Area) | 36″ | 42″ |
| Big Bamboo Fun House | 36″ | 42″ |
| Cliff Hanger | 46″ | 46″ |
| Crazy Dance | 48″ | 48″ |
| Daytona (Kiddie Area) | 32″ | 36″ |
| Dive Bomber (Kiddie Area) | 36″ | 36″ |
| Dragon Wagon | 36" with adult | 42″ |
| Drop N Twist | TBD | TBD |
| Equinox | 55″ | 55″ |
| Family Train (Kiddie Area) | 36″ | No higher than 54″ tall |
| Fire Chief (Kiddie Area) | 36″ | 42″ |
| Freak Out | 48″ | 48″ |
| Frog Hopper | 36″ | 36″ |
| Galaxy Coaster | TBD | TBD |
| Ghost Pirate Dark Ride (Kiddie Area) | 36″ | 42″ |
| Gondola Wheel | Under 40″ w/ Adult | 40″ |
| Haunted House Dark Ride | 36″ | 42″ |
| Hog Rally (Kiddie Area) | 34″ | 34″ |
| Juke Box Music Fun House | 36″ | 42″ |
| Kite Flyer (Kiddie Area) | 42″ | 42″ |
| Lady Bug (Kiddie Area) | 36″ | 42″ |
| Lolly Swing | 32" with adult | 42″ |
| Magic Maze | 36″ | 42″ |
| Merry-Go-Round (Kiddie Area) | Under 42″ w/ Adult | 42″ |
| Monkey Maze (Kiddie Area) | 32″ | 42″ |
| Monster Truck (Kiddie Area) | 36″ | 42″ |
| New York-New York | 42″ | 47″ |
| Orbiter | 48″ | 48″ |
| Pharaoh's Fury | 48″ | 48″ |
| Puppy Express (Kiddie Area) | 36″ | 42″ |
| Raiders (Kiddie Area) | 36″ | 36″ |
| Starship 3000 | TBD | TBD |
| Ring of Fire | TBD | TBD |
| Rockin' Tug (Kiddie) | 32″ | 42″ |
| Rock-it | 55″ | 55″ |
| Samba Balloon (Kiddie) | 36″ | 36″ |
| Scooters | 36″ | 48″ |
| Sizzler | 36″ | 48″ |
| Sky Flyer | 48″ | 48″ |
| Sky Master | 48″ | 48″ |
| Techno Power | 52″ | 52″ |
| Tilt-A-Whirl | 36″ | 46″ |
| Tornado | 38″ | 42″ |
| Wacky Shack Kiddy Fun (Kiddie Area) | 36″ | 42″ |
| Wave Swinger | 44″ | 44″ |
| Winky the Whale (Kiddie Area) | 30″ | 32″ |
| Zero Gravity | TBD | TBD |
| Zipper | 48″ | 48″ |