Make your day WonderFair at the Wisconsin State Fair!
Take advantage of one of the many advance discount pricing options to save money on your trip to the State Fair. See below for more details.
If you purchase concert tickets to a Main Stage show, please note that admission to the State Fair is included for the day of the show.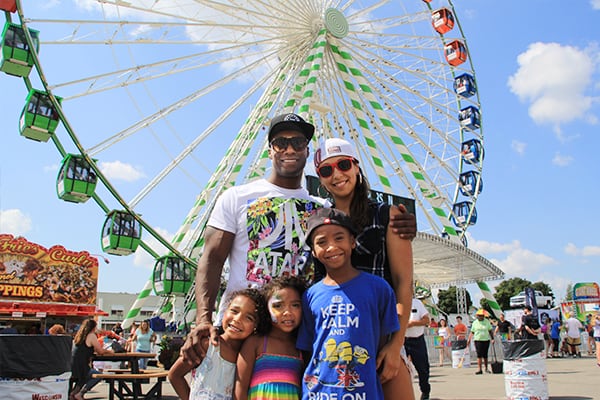 Advance Prices for Admission Tickets
Mid-November – December 31 (Holiday Deals)
June 1 – 30 (Fair Deals)
For discounts on orders of 50 or more admission tickets, please see our Group Sales department.
For details on all available reduced admission options including ticket packages, ways to earn free Fair tickets, and day-specific gate promotions, visit our Deals & Discounts page.
Etix is the only authorized ticketing partner of Wisconsin State Fair Park (WSFP). The State Fair Ticket Office and Etix (accessed via the WiStateFair.com or Etix.com websites) are the ONLY authorized sources for State Fair Main Stage Tickets.
If you purchase tickets from any other source, WSFP cannot guarantee the validity of the tickets and you risk being denied admission, refunds and/or exchanges.
Admission Prices at State Fair Admission Entrances
Adults (12 & over): $14
Seniors (60 & over): $8
Military/Veterans with ID: $8
Youth (ages 6-11): $8
Children (5 & under): FREE
For details on day-specific gate promotions, please visit our Deals & Discounts page.
TICKET OFFICE HOURS
The Wisconsin State Fair Park Ticket Office is currently closed to public access.
During this time, tickets can be purchased via phone at 414-266-7100 between 9am – 3pm, M-F or anytime online at WiStateFair.com.
We apologize for any inconvenience.
TICKET OFFICE ADDRESS
7722 W. Greenfield Avenue, West Allis, WI
TICKET OFFICE PHONE
414-266-7100
Wisconsin State Fair Hours of Operation
2020 WISCONSIN STATE FAIR HOURS
Sunday – Thursday: 8 am – 11 pm
Friday & Saturday: 8 am – 12 am
Final Sunday: 8 am – 10 pm
TICKET SALES AND FAIR ENTRY CEASE ONE HOUR PRIOR TO PARK CLOSURE.
RE-ENTRY HAND STAMPS CEASE TWO HOURS PRIOR TO PARK CLOSURE.
BUILDINGS & BARNS HOURS
Most attractions, including the WonderFair Wheel, open at 9 am.
SpinCity Amusement Ride & Game Area opens at 10 am daily.
Most buildings are open from 9 am – 10 pm daily, including the Exposition Center.
*On the final Sunday, August 16, barn closures begin at 2 pm and all buildings close at 9 pm.