Admission Prices at State Fair Admission Entrances
Adults (12 & over): $14
Seniors (60 & over): $8
Military/Veterans with ID: $8
Youth (ages 6-11): $8
Children (5 & under): FREE
Please note: Starting May 1, admission tickets will be on sale at our Fair Deal price for $8 each through June 30.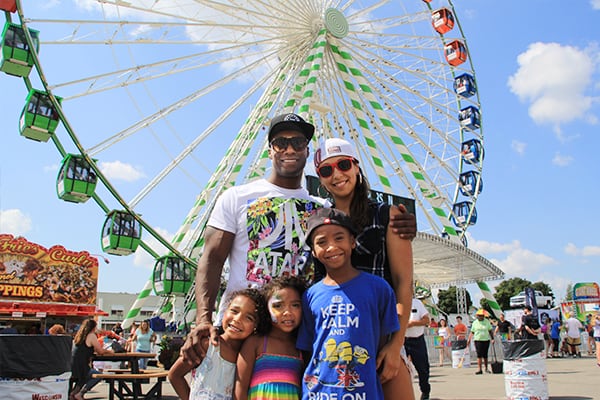 Wisconsin State Fair Hours of Operation
2019 WISCONSIN STATE FAIR HOURS
Sunday – Thursday: 8 am – 11 pm
Friday & Saturday: 8 am – 12 am
Final Sunday: 8 am – 10 pm
TICKET SALES AND FAIR ENTRY CEASE ONE HOUR PRIOR TO PARK CLOSURE.
RE-ENTRY HAND STAMPS CEASE TWO HOURS PRIOR TO PARK CLOSURE.
BUILDINGS & BARNS HOURS:
Most attractions, including the WonderFair Wheel, open at 9 am.
SpinCity Amusement Ride & Game Area opens at 10 am daily.
Most buildings are open from 9 am – 10 pm daily, including the Exposition Center.
*On the final Sunday, August 12, barn closures begin at 2 pm and all buildings close at 9 pm.
TICKET OFFICE HOURS:

April 1 – April 30
Monday – Friday:  9 am – 3 pm
Saturday – Sunday:  Closed
May 1 – June 28
Monday – Wednesday:  9 am – 4 pm*
Thursday:  9 am – 6 pm
Friday:  9 am – 4 pm
Saturday – Sunday:  Closed
*Closed Memorial Day, May 27
June 29 – June 30
Saturday – Sunday:  9 am – 4 pm
TICKET OFFICE ADDRESS:
7722 W. Greenfield Avenue, West Allis, WI
TICKET OFFICE PHONE:
414.266.7100