Admission Prices at State Fair Admission Entrances
Adults (12 & over): $14
Seniors (60 & over): $8
Military/Veterans with ID: $8
Youth (ages 6-11): $8
Children (5 & under): FREE
Etix is Wisconsin State Fair Park's only authorized ticketing partner. The Wisconsin State Fair Park Ticket Office and Etix (accessed via the WiStateFair.com or Etix.com websites) are the ONLY authorized sources for Main Stage and General Admission Wisconsin State Fair Tickets. If you purchase tickets from any other source we cannot guarantee the validity of the tickets and you risk being denied admission, refunds and/or exchanges.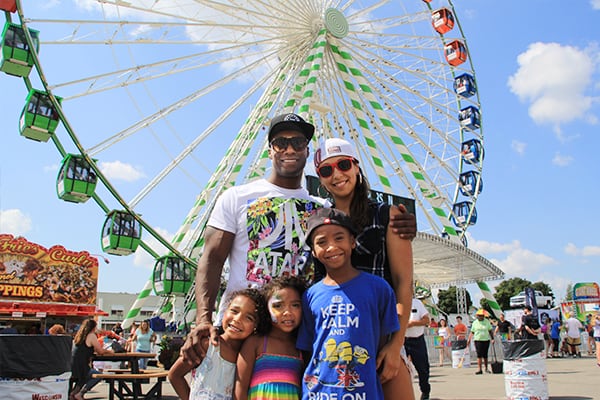 Wisconsin State Fair Hours of Operation
2019 WISCONSIN STATE FAIR HOURS
Sunday – Thursday: 8 am – 11 pm
Friday & Saturday: 8 am – 12 am
Final Sunday: 8 am – 10 pm
TICKET SALES AND FAIR ENTRY CEASE ONE HOUR PRIOR TO PARK CLOSURE.
RE-ENTRY HAND STAMPS CEASE TWO HOURS PRIOR TO PARK CLOSURE.
BUILDINGS & BARNS HOURS:
Most attractions, including the WonderFair Wheel, open at 9 am.
SpinCity Amusement Ride & Game Area opens at 10 am daily.
Most buildings are open from 9 am – 10 pm daily, including the Exposition Center.
*On the final Sunday, August 11, barn closures begin at 2 pm and all buildings close at 9 pm.
TICKET OFFICE HOURS:
July 29 – July 31
Monday – Wednesday:  9 am – 6 pm
August 1 – August 10
8 am – 8 pm
August 11
8 am – 6 pm
August 12 – August 15
Monday – Thursday:  10 am – 3 pm
TICKET OFFICE ADDRESS:
7722 W. Greenfield Avenue, West Allis, WI
TICKET OFFICE PHONE:
414.266.7100