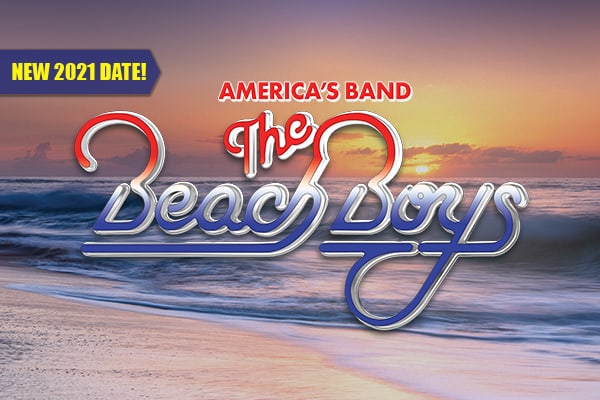 The Beach Boys
NEW DATE! Saturday, August 14, 2021 @ 7:30 pm
California surf rock legends The Beach Boys will return to the Main Stage on Saturday, August 14, 2021 at 7:30 pm.
Since their formation in the early 1960s, the Beach Boys have had 36 songs chart in the US Top 40 (the most by a US rock band) and have sold more than 100 million records worldwide.
All seating for this show is reserved, and tickets will be $30, $35 and $40. Each concert ticket includes admission to the State Fair for the day of the show when purchased in advance. Venue opens at 6:30 pm for show seating.
Got your tickets but want more Beach Boys? Get a VIP package upgrade to include a meet and greet option before the show or 50th anniversary memorabilia – available at thebeachboys.com and mikelove.com.
About The Beach Boys
The Beach Boys signed with Capitol Records in July 1962 and released their first album, Surfin' Safari, that same year. The album spent 37 weeks on the Billboard chart, launching the young group known for its shimmering vocal harmonies and relaxed California style into international stardom. The Wilson/Love collaboration resulted in many huge international chart hits, and under Brian Wilson's musical leadership, the band's initial surf-rock focus was soon broadened to include many other themes, helping make The Beach Boys America's preeminent band of the 1960s.
Impressively, The Beach Boys continue to hold Billboard / Nielsen SoundScan's record as the top-selling American band for albums and singles, and they are also the American group with the most Billboard Top 40 chart hits (36). 'Sounds Of Summer: The Very Best Of The Beach Boys' has achieved triple-Platinum sales status and 'The SMiLE Sessions,' released to worldwide critical acclaim in November, has been heralded as 2011's #1 Reissue of the Year by Rolling Stone magazine.
Inducted into the Rock and Roll Hall of Fame in 1988 and recipients of The Recording Academy's Lifetime Achievement GRAMMY Award, The Beach Boys are a beloved American institution that remains iconic around the world.
Now, with The Beach Boys 50th Anniversary Tour and the release of That's Why God Made The Radio, one of music's greatest stories continues. And that's only right because as the record shows — "Good Vibrations" really are forever.
Disclaimer:
Etix is the only authorized ticketing partner of Wisconsin State Fair Park (WSFP). The State Fair Ticket Office and Etix (accessed via the WiStateFair.com or Etix.com websites) are the ONLY authorized sources for State Fair Main Stage Tickets.
If you purchase tickets from any other source, WSFP cannot guarantee the validity of the tickets and you risk being denied admission, refunds and/or exchanges.