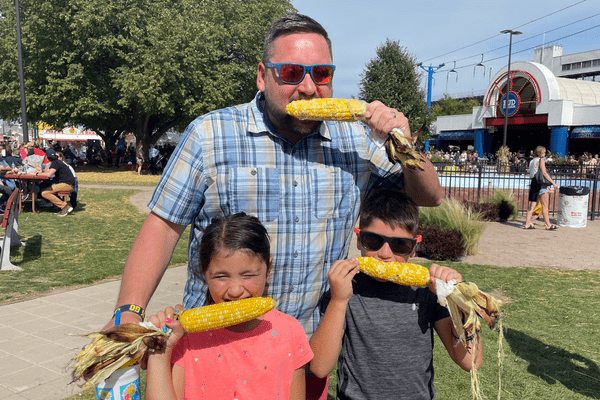 Enjoy some of your favorite Fair "Fare" during Harvest Fair, or try some delicious, harvest-themed treats!
Check back often to see new additions to our list of food and shopping vendors.
Vendors inside the Fair Park have the option of accepting cash as a form of payment. Most vendors will accept both cash and credit cards.
Harvest "Fare" Favorites
Over 40 vendors offer a variety of harvest-themed food options and staple Fair foods. Click for the full list of vendors at Harvest Fair and their menu offerings.
Benno's Concessions is a family-owned-and-operated food and beverage concession company offering quality customer service at Harvest Fair. Check out their locations like The Micro, Wineberry, Camp Amber, and Benno's Leinie Lodge all located in the Bank Five Nine Amphitheater.
Purchase award-winning apple and pumpkin pies from the Elegant Farmer. Whole apple pies are $27, whole pumpkin pies are $22, and one slice is $6. Located in the Farmers Market on Grandstand Avenue.
Get your homemade Harvest Stew with a homemade roll for just $8! Or even better, get your meal in a commemorative Harvest Fair bowl for $14. Located on Main Street across from Central Park.
Shopping
Get in the fall spirit and peruse vendors selling fresh produce and handmade products at the Farmers Market. You'll find all things autumnal at this market! Located on Grandstand Avenue.
Check out our vendors to shop for unique and seasonal items! Find these vendors surrounding the Bank Five Nine Amphitheater in the Central Marketplace and sprinkled throughout Harvest Fair.
Before you head home, stop by Craigland Farms' pumpkin patch to search for pumpkins of all shapes and sizes to amplify your fall decorations. Both credit card and cash will be accepted. Located on the corner of Main Street and Grandstand Avenue.