COVID-19 Precautions & Updates
The safety and health of all visitors and employees at Wisconsin State Fair Park is our top priority.
As coronavirus (COVID-19) continues to spread internationally and here in the United States, we want to be proactive in keeping you informed on the precautions that are in place at Wisconsin State Fair Park.
See below for a list of postponed and cancelled events at Wisconsin State Fair Park, and information about the Alternate Care Facility in the Exposition Center.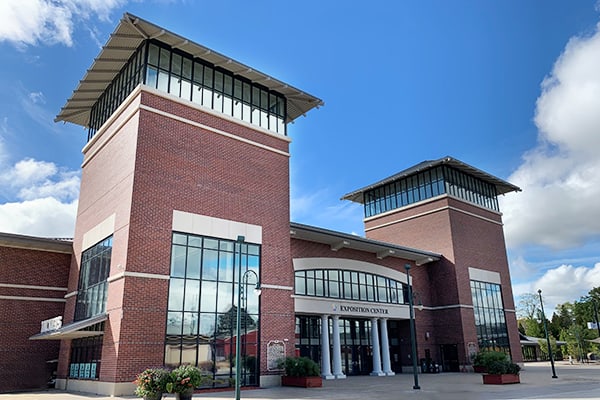 About Coronavirus (COVID-19)
Enhanced Health & Safety Efforts
Wisconsin State Fair Park is actively following updates and recommendations from the Centers for Disease Control and Prevention (CDC).
The following proactive steps have been taken to minimize the risk to all visitors:
Increased cleaning and sanitation measures throughout the Fair Park.
Utilizing hospital grade cleaners and allowing them the proper dwell time to disinfect surfaces.
Installation of additional hand sanitizer stations in the Exposition Center and Tommy G. Thompson Youth Center, along with additional signage reminding visitors to wash hands and use sanitizer.
Sanitizing restrooms with the Kaivac no-touch cleaning system.
Impact on Annual Wisconsin State Fair
The Wisconsin State Fair is so much more than just a fair, it is tradition, it is celebration, it is the showcase of everything we are so proud of in Wisconsin. For the safety of our fairgoers, staff, vendors, entertainers, exhibitors, sponsors, suppliers and the broader community, the 2020 Wisconsin State Fair has been canceled.
For more details and refund information, please click here.
Alternate Care Facility FAQs
What is the Alternate Care Facility and why do we need it?
AngelaS
2020-04-16T15:01:09+00:00
In Wisconsin and across the country, cases of COVID-19 infections continue to spread, placing stress on hospitals' capacity to care for a surge in COVID-19 patients.
State Fair Park was chosen as a location for an Alternate Care Facility (ACF), to care for COVID-19 patients should there be insufficient hospital capacity in southeastern Wisconsin in the weeks ahead.
It is important that everyone continue to stay at home, practice social distancing and all the safety measures necessary to keep the COVID-19 spread from progressing. The need for and use of the Alternative Care Facility will largely be dependent on the rate of infection in our community.
Impact on Events Held at Wisconsin State Fair Park
See below for upcoming events that have been postponed or cancelled due to COVID-19. New dates for rescheduled events are also included.
Click here for the most up-to-date information on events currently being held at Wisconsin State Fair Park.
Event Name
Original Dates
Status
Wingfest
March 15
Canceled
96th Annual Realtors Home & Garden Show
March 20-29
Canceled
Learning Curves Motorcycle Safety Class
April 1-30
Canceled
Wheel & Sprocket Bike Expo
April 2-5
Canceled
Milwaukee Track Day
April 9
Canceled
Just Between Friends Consignment Sale
April 14-18
Canceled
Brickworld Milwaukee
April 18-19
Canceled
Stein & Dine
April 18
Rescheduled
November 7, 2020
USJN Basketball Tournament
April 24-26
Canceled
Wisconsin Rummage-O-Rama
April 25-26
Canceled
Learning Curves Motorcycle Safety Class
May 1-30
Canceled
Stamp & Scrapbook Expo
May 1-2
Canceled
Half Price Books Clearance Sale
May 1-3
Canceled
MMSD Hazardous Waste Collection
May 1-2
Canceled
Big Bounce America
May 2-3, 8-10
Canceled
Milwaukee Track Day
May 14
Cancelled
Southeast Wisconsin Master Gardener
Perennial Plant Sale
May 15-16
Cancelled
GPAA Gold & Treasure Show
May 16-17
Canceled
The Rusty Wallace Racing Experience
May 16-17
Canceled
Tuesday Night Street Drags
May 19
Canceled
Wednesday Night Live!
May 27
Canceled
Wednesday Night Live!
June 3
Canceled
Swim Spa, Hot Tub & Sauna Show
June 5-7
Canceled
Xtreme Xperience Supercar Driving Tour
June 5-7
Rescheduled
October 16, 2020
H.O.P.E. Fest – 72 Hours of Prayer
June 5-7
Canceled
Wednesday Night Live!
June 10
Canceled
WLBA Livestock Show Camp
June 13-14
Canceled
Tuesday Night Street Drags
June 13
Canceled
ARCA Midwest Tour
June 14
Canceled
Wednesday Night Live!
June 17
Canceled
Milwaukee Track Day
June 18
Canceled
Greek Fest
June 19-21
Canceled
Wednesday Night Live!
June 24
Canceled
Millers at Milwaukee – Vintage Indy Car Event
June 26-27
Canceled
Wednesday Night Live!
July 1
Canceled
Wednesday Night Live!
July 8
Canceled
Wednesday Night Live!
July 15
Canceled
Wednesday Night Live!
July 22
Canceled
2020 Wisconsin State Fair
August 6-16
Canceled
The Parking Lot Social
August 12-16
Canceled
Wednesday Night Live!
August 26
Canceled
Wednesday Night Live!
September 2
Canceled
Wednesday Night Live!
September 9
Canceled
Half Price Books Clearance Sale
September 11-13
Canceled
Wisconsin 4-H Horse Show – Gymkhana
September 12-13
Canceled
Wednesday Night Live!
September 16
Canceled
Wisconsin 4-H Horse Show – Expo
September 18-20
Canceled
Wednesday Night Live!
September 23
Canceled
2020 Harvest Fair
September 25-27
Canceled
Wednesday Night Live!
September 30
Canceled
Learning Curves Motorcycle Safety School
October 1-31
Canceled
Autism Speaks Walk
October 4
Canceled
Sticky Fingers
October 8
Canceled
Trainfest
November 14-15
Canceled
Hmong New Year
December 5-6
Canceled
Milwaukee Kids Expo
February 13-14, 2021
Canceled