Shopper's Fair-a-dise Day
Calling all bargain hunters, coupon clippers, and super savers!
New in 2019, the Shopper's Fair-a-dise promotion on Wednesday, August 7 gives seriously savvy shoppers a reason to celebrate. For one day only, shopping vendors will offer discounts on select merchandise or even entire stores. Take advantage of these savings to get holiday shopping done, nab this year's most exciting product, or treat yourself to that gift you've always wanted!
Pick up a Shopper's Fair-a-dise brochure at any Fair Information Center and look for posters displayed at participating vendors.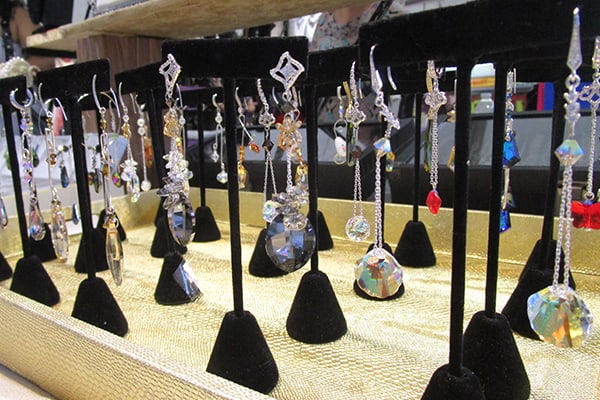 Apparel & Accessories
Product
Vendor
Location
Discount
Entire Store
Akarim African Enterprises
Mile Marketplace
10% off
(over $1.50 value)
Entire Store
Aliza Fashions
Galleria
10% off with purchase of $25 or more
(over $2.50 value)
Entire Store
Silvery Gallery
Exposition Center
10% off purchase under $150, 15% off $150+
(up to $225 value)
Charm
The Cates Company
Exposition Center
Free with purchase of a gold chain
(up to $12 value)
Cowboy Boots
Leon  Leather
N. Grandstand Avenue
10% off plus FREE Desperado Cowboy Hat
(up to $87 value)
Earrings or Pendant
Wirefly Jewelry
Central Marketplace
Free with purchase
(valid only on $5 earrings and pendants – $5 value)
Jewelry
Faye's Elegant Jewelry
Exposition Center
10% off entire purchase
(up to $7 value)
Jewelry
JLee Studio
Mile Marketplace
10% off
(in-stock items only, excludes custom orders – over $1.50 value)
LuLaRoe Shirts
LuLaRoe with Mary Hansen
(valid only in 1800 aisle)
Exposition Center
20% off
($5 value)
Milwaukee Admirals Logo Collection T-Shirts
Milwaukee Admirals
Exposition Center
25% off
($5 value)
Pearl Oyster
Pearl Creations
Exposition Center
FREE with purchase of any setting
($12.95 value)
Pocket Plus (Large)
Our Journey Gifts
Exposition Center
10% off
($2.60 value)
Pullover Sweatshirts
Exquisite Collections
Exposition Center
20% off
($5 value)
Select Raffia Baskets
(styles include Mamy Large, Tia Large & Misa Large)
Akua's Boutique
Galleria
$10 off
($10 value)
Select T-Shirts
Brew City Brand
Central Marketplace
20% off
(valid only on t-shirt regularly $15+, over $3 value)
Select T-Shirts
(sublimation printed t-shirts only)
Tampa Bay Artwear
N. Grandstand Avenue
Buy 1, get 1 half off
($10 value)
Stainless Steel Rings with Swarovski Crystals
Margeret Taylor Jewelry, "The Ring Lady"
Central Marketplace
10% off
(over $0.99 value)
Sunglasses
Shades of Fun
Multiple Outdoor Locations
10% off
(up to $1 value)
Sunglasses
(excludes polarized fit over sunglasses)
Under the Sun
Exposition Center & N. Grandstand Avenue
Buy 1, get 1 half off
($6.49 value)
T-Shirts
Leon Leather
Second Street & Wetley Way
Buy 4, get 1 free
($22.99 value)
Tungsten Carbide Bracelets
(limit one)
Dynamic Expressions
Exposition Center
10% off
($15 value)
Collectibles, Hobbies & Toys
Product
Vendor
Location
Discount
Alpaca Yarn
(only on 100% undyed/natural 8 oz skeins)
Shady Haven's Fiber Designs
Wisconsin Products Pavilion
10% off
($3.05 value)
Fingerling Weight Marino Bamboo Nylon Yarn
Wisconsin Wool Works!
Sheep & Goat Barn
20% off
($5 value)
Giannis MVP Plaque
Fan Appreciation
Exposition Center & Mile Marketplace
$10 off
($10 value)
Melissa & Doug Toys
(limit one)
Someplace Special / Mighty T's
Exposition Center
10% off
($1.99 value)
Metallic Trumpet Toys
East Coast Concessions
Multiple Outdoor Locations
Buy 1, get 1 half off
($2.50 value)
NFL Cloud Pillows
Gecko Allstar Collectables
Exposition Center
$5 off
($5 value)
Paddle Board
Paddle North
Exposition Center
$200 off plus FREE carbon fiber paddle
($399 value)
Skymarks Snap Together Airplane Models
Gift of Wings
Exposition Center
20% off
($15.98 value)
Fair Memories
Product
Vendor
Location
Discount
8″x10″ State Fair Themed Photo Print Outs
Space-Pix Digital Portraits
Second Street & N. Grandstand Avenue
20% off
($2.59 value)
Airbrush Face
Fair Do's, Face & Tattoos
Central Avenue & Second Street
$2 off
($2 value)
Health & Beauty
Product
Vendor
Location
Discount
Aloe Vera-Based Skin Care
L'BRI Pure n' Natural Skin Care
Exposition Center
10% off in-stock items
(up to $20 value)
Color Street Nails
Nature Made Heaven Scent Soaps
Exposition Center
Buy 3 sets, get 1 free
($13 value)
Fragrance Roller Ball
Heaven Scent
Exposition Center
FREE with $100 purchase before tax
($15 value)
Makeup
Mahya Cosmetics
Exposition Center
$5 off $50+, $10 off $100+
(up to $10 value)
Natural Bug Spray
Sage's Aromatherapy & Oils
Galleria
Buy 1, get 1 half off
($5 value)
Perfume Body Oil
(valid only on 1/3 oz size)
Artisans of Morocco
Mile Marketplace
Buy 1, get 1 free
($5 value)
Scented Wooden Rose & Travel Size Rosewater Spray
Lilla Rose – Everyday Hair 4 You
Exposition Center
Free with purchase of hair accessory
($5 value)
Upper Lip Threading
Salon Mayfair
Exposition Center
Free with purchase of eyebrow threading
(must be same person, same day – $8 value)
Wave Walkers Massaging Insoles
Walking Tall Foot Correctors
Exposition Center
$5 off
($5 value)
Home & Garden
Product
Vendor
Location
Discount
18″x24″ Butterfly Alphabet Art Print
What's the Evidence
Central Marketplace
50% off
($2.50 value)
2-Quart Bird Feeder
(valid only on style GSHF100)
Forever Bird Houses
Exposition Center
$12 off
($12 value)
Adirondack Chairs
(excludes gliders, dining, counter or bar-height chairs)
By the Yard
Exposition Center
10% off
(over $32 value)
American Windsocks
Country Yard Outlet
Exposition Center
50% off
($3 value)
Bed Sheets, any size
Hotel Comfort
Exposition Center
10% off
(over $3 value)
Can/Bottle Coozie
Wiki Woolz & Wares
Central Marketplace
Buy 1, get 1 free
($6 value)
Can Koozie Handle
Dan the Can Cooler Man
Mile Marketplace, First Street & Wetley Way
25% off
($1 value)
Canary Island Garlic Herb Olive Oil Bottles
Vigoa Cuisine
Exposition Center
Buy 1, get 1 half off
($10 value)
Christmas Ornaments
Callisters Christmas
Exposition Center
Buy 3, get 1 free of equal or lesser value
(up to $24.94 value)
Funky Resin Birdhouses
Sunrise Showers Soap Co. LLC
Exposition Center
10% off
($2.69 value)
Koenig Spray Polish
EZDetailer – Koenig All-In-One Cleaner
Exposition Center
Buy 4, get 1 free
($20 value)
LANG Calendars
LANG
Exposition Center
Buy 2, get 1 free of equal or lesser value
(up to $18 value)
Mahogany Airplane
Peddler's Bargains
Exposition Center
10% off
($6 value)
Moen Handheld Shower Head
Bath Fitter
Exposition Center
Free with purchase of custom acrylic tub or shower remodel. Estimate must be scheduled 8/7.
($230 value)
Recycled Metal Signs
Tampa Bay Artwear
Galleria
10% off
(up to $10 value)
Vintage Wood Signs/Decor
Ewe-Nique Products
Big Backyard, S. Grandstand Avenue
Buy 1, get 1 half off item $100 or less
(up to $50 value)
Wax Pack
(limit one)
PartyLite
Exposition Center
Free with purchase of $25+
($10 value)
Wind Spinners
Chad's Collectibles
Big Backyard
10% off
(up to $10 value)
Pets
Product
Vendor
Location
Discount
Plush Mallard Duck Dog Toy
Premium Dog Toys
Exposition Center
Buy 1, get 1 for $1
($6 value)
Select No Pull Pet Harnesses
(styles include Xtreme, Leashes by Liz and Lupine)
Heather's Pet Products
Exposition Center
20% off
(up to $7.80 value)