Hiring Center – Now Open!
HIRING CENTER HOURS*
Wednesdays 1 – 5 pm
Thursdays 4 – 8 pm
Saturdays 10 am – 2 pm
*Hiring until positions are filled
Thank you for your interest in working the 2019 Wisconsin State Fair!
We will have a large number of openings throughout various departments who will work leading up to and during Wisconsin State Fair, August 1-11. Please see below for information.
All employees are required to be at least 16 years of age (18+ for Public Safety positions) and available to work all 11 days of the Fair.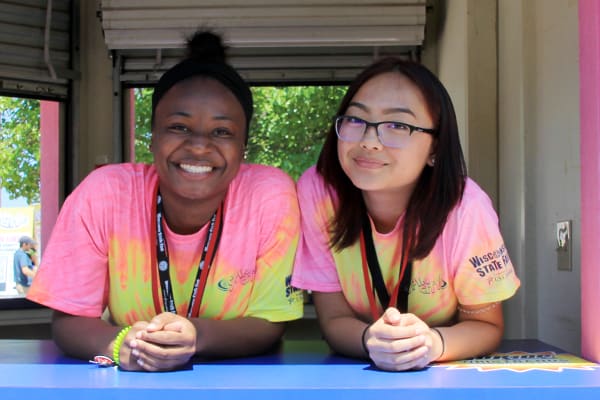 The Details
WHEN:
Wednesdays from 1 – 5 pm
Thursdays from 4 – 8 pm
Saturday from 10 am – 2 pm
WHERE:
State Fair Park
Tommy G Thompson (TGT) Youth Center
640 S 84th Street, West Allis
Gate 5
ATTENDEES SHOULD BRING THE FOLLOWING:
Proof of Eligibility to Work in the US (Documents for I-9 verification)
Driver License/ID Card, Birth Certificate, School ID, etc.
Social Security Card (for payroll purposes)
A winning attitude and a smile!
What to Expect
The hiring center offers on-site interviews so come prepared! Applicants will fill out employment documents upon a successful interview and all applicants 18+ will need to pass a criminal background check.
WHO IS HIRING:
Admissions

Ticket Sellers *must be able to pass a cash handling test on site

Public Safety (must be 18+ for all roles)

Event Support Staff
Public Safety Officers