Bringing a group of 50 or more to the State Fair? Have we got a deal for you!
Save up to 50% off of individually priced admission tickets and gain access to exclusive deals for your whole group. Ticket prices increase throughout the summer, so plan ahead and save.
NEW THIS YEAR! Order your tickets online and receive two complimentary admission tickets and one bargain book!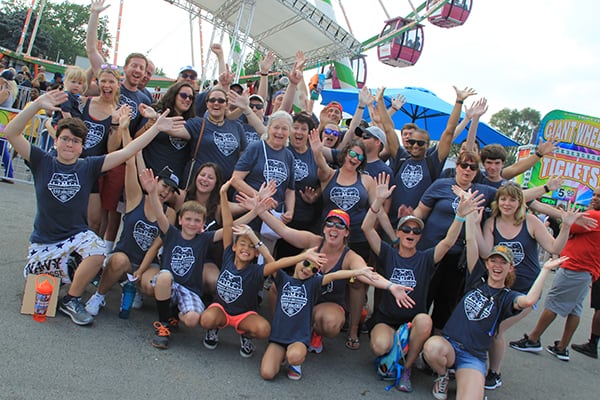 Get the Best Deals for Your Group
Whether you want to plan a company outing or bring all of your extended relatives to the State Fair, these options are for you and your party of 50 or more.
From discounted admission to typically-only-sold-during-the-State-Fair items such as Giant Slide tickets, we've got lots of options to make your visit unforgettable.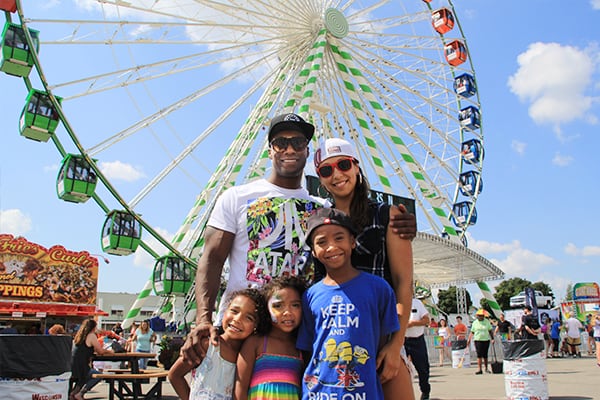 Admission Tickets
All admission tickets are valid for any day of the State Fair and are redeemable at any admission entrance.
Pricing below applies to orders of 50 or more admission tickets.
Please Note: Wisconsin State Law prohibits the resale of State Fair tickets for more than the amount printed on the face of the ticket.
Dates
Price
May 1 – June 30
$7
(50% savings)
July 1 – July 31
$9
(35% savings)
August 1 – August 16
(available only at the State Fair Ticket Office)
$14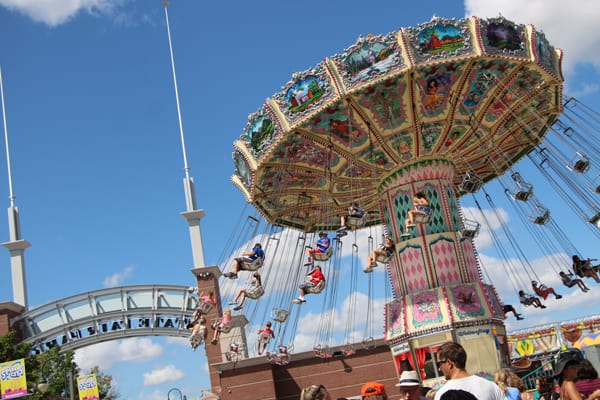 SpinCity Amusement Rides & Games
Enjoy the thrilling atmosphere of SpinCity, the State Fair's exciting amusement area featuring nearly 50 rides and 30 games.
Rides and games in SpinCity utilize an all-ticket system that require 3-6 tickets each. Redeem your vouchers at the SpinCity Redemption Booth located on the Grand Walkway.
Options
Price
40-Ticket Sheet Voucher
(redeemable for rides & games)
$24
(25% savings)
GoRide Wristband Voucher
(redeemable for rides only)
*Valid for a single day of unlimited rides from 10 am – 9 pm. Vouchers must be redeemed by 7 pm.
$42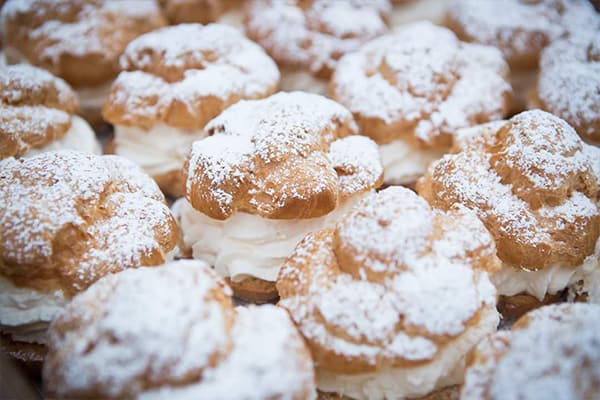 Original Cream Puffs
Quantity
Price
Single Cream Puff Voucher
$4
(10% savings)
3-Pack Voucher
$11
(8% savings)
6-Pack Voucher
$17
(22% savings)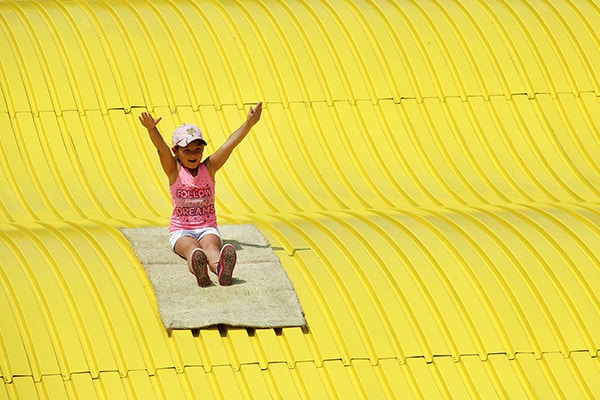 Additional Rides & Attractions
These rides and attractions may be located outside of SpinCity, but they still provide plenty of amusement for kids and adults alike.
Ride or Attraction
Price
Giant Slide Ticket
$2.50
(16% savings)
SkyGlider Ticket
(one-way)
$4
(20% savings)
WonderFair Wheel Ticket
$6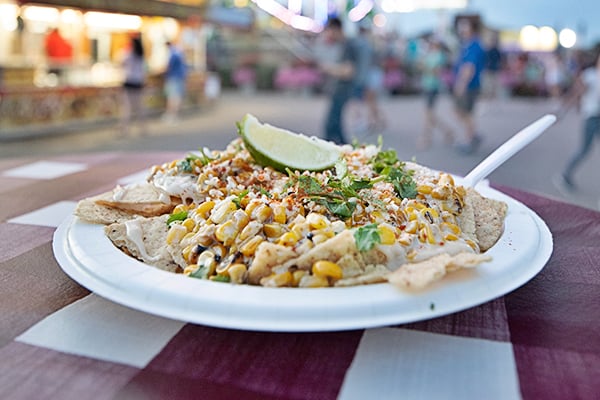 Food & Beverage Options
Whether you want a crazy new food or a State Fair staple, these food & beverage options will help you access over 800 different options available at the State Fair.
Options
Price
Bargain Book Voucher
(see here for a list of all Bargain Book coupons)
$4
(20% savings)
Fair Bucks Voucher
(redeemable for menu items at any food and beverage location for face value)
$5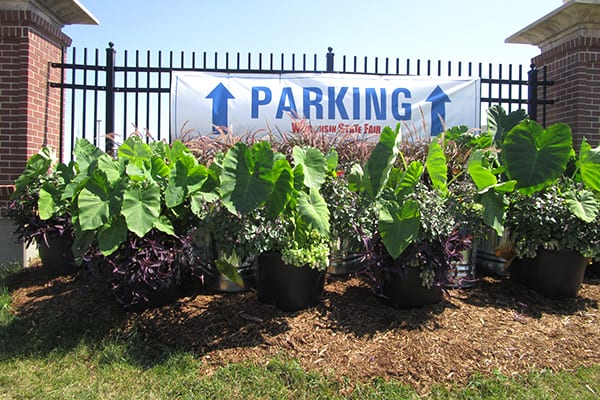 Parking Vouchers
Want to provide parking for your group? Get them parking vouchers in advance!
General parking vouchers are redeemable at any vehicle entrance and preferred parking vouchers are redeemable at the vehicle entrances specified on the voucher.
Parking Type
Price
General Parking Voucher
(valid any day)
$12
Preferred Parking Voucher
(date specific)
$25
Ordering
For details on ordering, payment methods and delivery options, please see below.
For placing an order over 1,000 admission tickets, bus groups, or questions, please contact Hailey Schmitt, Corporate & Group Sales Coordinator, at groupsales@wistatefair.com or 414.266.7028.
Place an Order
Place your order via one of the following:
Please note that discounted group tickets cannot be ordered in person at the State Fair Ticket Office before August 1.
All orders will be assessed a $5 order fee.
NEW THIS YEAR! Order your tickets online and each customer will receive two complimentary admission tickets and one bargain book!
Payment
Orders can be paid for in the following ways:
Credit Card (Visa, MasterCard, Discover or American Express)
Check (Payable to Wisconsin State Fair)
Please note that cash will not be accepted as a form of payment.
Delivery
Completed orders can be obtained in two ways:
| | |
| --- | --- |
| Pick-up at Wisconsin State Fair Park | FREE |
| Ship via UPS | $8 per order |
For tracking purposes, orders are only sent via UPS. if choosing the pick-up option, you will be notified via email when your order is ready.
Enhance Your Group Experience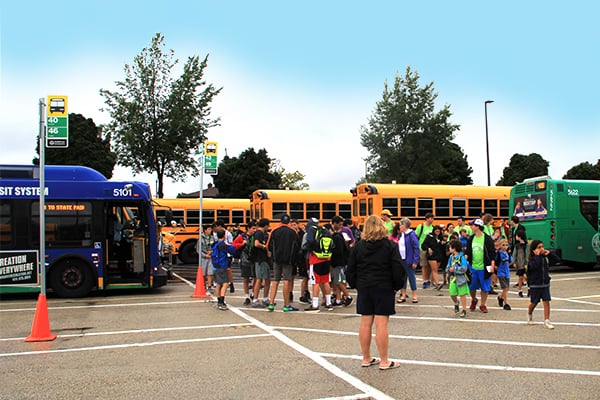 Bus Groups
We make it easy to bring your bus group to State Fair!
When arranged in advance, you can enjoy FREE bus parking and FREE admission for your bus driver. We'll also send Daily Schedules and State Fair Trivia for your group to enjoy on the way to State Fair.
Contact the Group Sales Department at groupsales@wistatefair.com to plan your trip.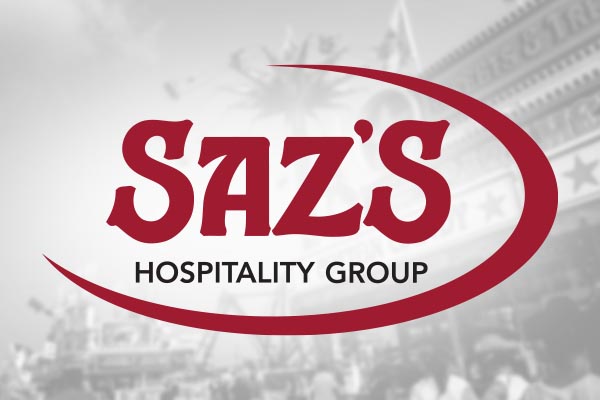 Private Parties at State Fair
If you want more than just discounts, reserve a party tent for your group gathering at Saz's Hospitality Village, the private event area at State Fair!
Saz's provides a fun meeting place and delicious catering for groups of all sizes. You can meet, eat and then adventure out to explore all the fun things to be enjoyed at State Fair.
Please call 414-256-8765 or visit sazs.com for more details.