The Wisconsin State Fair draws more than one million visitors each year who revel in tradition and are drawn to exciting attractions like the the Giant Slide, Sky Glider, Daily Parade and more.
Visitors can see thousands of animals in numerous barns throughout Ag Village, as well as educational exhibits in the Farm & Family Building and the Compeer Financial Discovery Barnyard.
Grand Champion Hall is an oasis where fairgoers will enjoy beautiful bonsais, orchids, dahlias and gladiolus along with a myriad of vegetables, textiles, canned goods, pies, cakes and more.
Thrill-seekers won't want to miss the Wisconsin State Fair's amusement ride and game area, SpinCity, which features more than 50 rides and 30 games.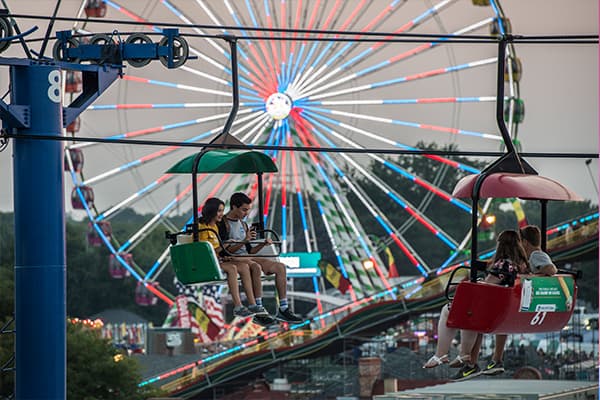 Agriculture & Exhibits
Each year thousands of animals are exhibited at the Wisconsin State Fair, and most of these animals do not stay for the entire 11 days of the Fair.For the safety of the animals, exhibitors and Fairgoers, barns must be closed to allow animals to leave and the barns to be cleaned for the arrival of new animals and new exhibitors. On days the barns close early for animals to leave, certain streets in Ag Village will be closed or have limited access.
Arts & Displays
They go by the names of Cactus Cat, Pig Pig, and Charlie the Roller-Skating Cheetah. These and many other imaginative and illustrative animals will be on exhibit during Autism, Art, and Animals in the lobby of the Expo Center from August 1 - 4. All work was created by students ages 8 - 18 enrolled in Islands of Brilliance, a Milwaukee nonprofit working to enrich the lives of children and young adults living with autism.
Daily Features
Check out this Fair tradition that kicks off at 2 pm daily. See the Fairest of the Fairs, your favorite street entertainers, mascots, tractors, marching bands and much more!
Take your family on an adventure through Exploratory Park! This relaxing oasis on the south side of the Fair Park features hands-on stations for kids of all ages.
"Sowing Creativity" is growing by leaps and bounds in our gardens. From castles to purses to tire rims, nothing goes un-planted at the Wisconsin State Fair! Earn a special ribbon after you visit ten gardens that feature the creative containers planted by our Flower Crew. Stop by Grand Champion Hall to pick up your punch card.
The Wisconsin State Fair and the Wisconsin State Fair Park Foundation will continue their partnership with Kohl's Cares. The partnership features the annual Kohl's Family Value Day on Monday, Aug. 5, which provides discounted admission to all fairgoers, the Kohl's Activity Zone and "Fair Day" at Children's Hospital of Wisconsin.
As you wander the paths of Exploratory Park, relax a little in the south building and dive into 168 years' worth of Wisconsin State Fair history. Featured items will include the 1919 State Fair, previous locations of the State Fair, and mounted police history. Before you leave, test your State Fair history knowledge with the history quiz.
Rides & Attractions
The Giant Slide has been a State Fair icon for over 50 years. Hop on a burlap sack and take a magic carpet ride. Trips down the 200 ft. slide are only $3 each. Located on Second Street at Central Avenue.
Kids will love a ride down the world's largest piggy bank. Take two trips down the slide for only $1.
Don't miss this bird's-eye view of all the fun down below! One-way tickets are $5, and round-trip is $8. Tickets are available at each end of the SkyGlider near the Exposition Center and on North Grandstand Avenue near the SpinCity Entrance.
Don't miss SpinCity - the Fair's exciting Amusement Ride and Game Area! SpinCity features a super assortment of more than 50 amazing rides and attractions, including eight new rides. Thirty fun games also await all adults and children alike, complete with plenty of great chances to win fabulous prizes! The area will also offer well-shaded seating areas and plenty of delicious concessions.
The WonderFair Wheel is North America's largest traveling Ferris wheel. Located on the west side of State Fair Park, the WonderFair Wheel pres. by Meijer features 36 fully enclosed, brightly colored gondolas. Each gondola has a capacity of six people, and one gondola offers accessible seating. The ride time from start to finish is approx. 10 minutes, and an average of 1,100 fairgoers can ride each hour. Rides cost $6 per person.