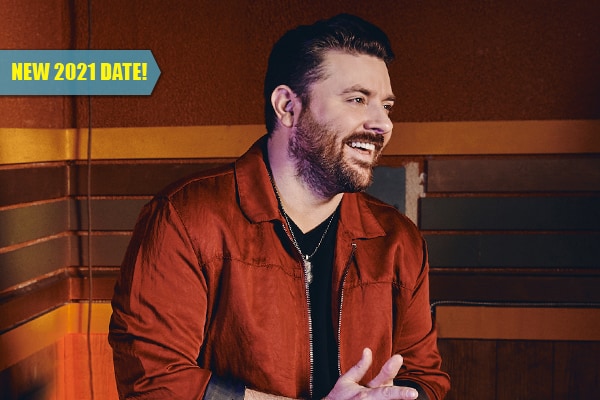 Chris Young with Sara Evans
NEW DATE! Friday, August 6, 2021 @ 7:30 pm
Multi-platinum entertainer Chris Young will headline the Main Stage on Friday, August 6.
Young has accumulated an impressive list of accomplishments, including membership in the iconic Grand Ole Opry, two billion on-demand streams and 11 career No. 1 singles.
The Grammy and ACM nominated vocalist headlined the Raised on Country World Tour in 2019, playing to more than 400,000 fans in three countries. Chris' newest hits are "Drowning," "Raised on Country" and "Town Ain't Big Enough" featuring Lauren Alaina.
Country music singer/songwriter Sara Evans will open the 7:30 pm show. Evans' career highlights include millions of records sold, an ACM Top Female Vocalist Award, and 14 Top Country 20 hits, including signature songs "Born to Fly" and "Suds in the Bucket".
All seating for this show is reserved, and tickets will be $49 and $54. Each concert ticket includes admission to the State Fair for the day of the show when purchased in advance. Venue opens at 6:30 pm for show seating.
About Chris Young
By his 34th birthday, multi-platinum RCA Records Nashville entertainer Chris Young has accumulated an impressive list of accomplishments, including membership in the iconic Grand Ole Opry, 2 Billion on-demand streams, 12 Million singles sold, 11 career No. 1 singles, 17 R.I.A.A. Gold/Platinum/Multi-Platinum certified projects, 2 Grammy nominations, 3 Country Music Association nominations and 4 Academy of Country Music nominations. As a prolific creator, Chris has given fans 7 studio albums in 12 years including Losing Sleep, his third project in less than two years. The title track is certified Platinum while "Hangin' On" is his ninth No. 1 as a songwriter. Losing Sleep (2017) and I'm Comin' Over (2015) debuted at No. 1 on Billboard's Top Country Albums Chart with "I'm Comin' Over" becoming Young's first 2x Platinum single.
Named "one of his era's finest traditionalists" by the Associated Press, Chris has quickly become an international ambassador for country music, performing to capacity crowds around the world including the sold-out C2C Festival in the UK. With a hit-packed set that highlights his eleven chart-toppers — including back-to-back No. 1s "Losing Sleep," "Sober Saturday Night," "Think Of You," and "I'm Comin' Over" — the Grammy and ACM nominated vocalist headlined the Raised On Country World Tour, playing to over 400,000 fans in 3 countries in 2019, including London, Charlotte, Boston, Philadelphia, Dallas, Las Vegas, Indianapolis, St. Louis, Phoenix, San Diego and more.
Chris's newest hits — "Drowning," "Raised On Country" and "Town Ain't Big Enough," featuring Lauren Alaina — will be included on a new album releasing in 2020. For a full list of tour dates and more information, visit chrisyoungcountry.com.
She's had five #1 singles, sold millions of records, won the Academy of Country Music's Top Female Vocalist Award and claimed a Country Music Association trophy for her signature song, "Born To Fly." It's tough to imagine many accomplishments Sara Evans hasn't already checked off her bucket list.
And yet, with the release of her eighth studio album, Words demonstrates that she's still willing to leap into the unknown, taking greater control of her career and calling the shots in a way that's unusual in country music – particularly unusual for a woman in the genre. Words is the first project on Evans' own label: Born To Fly Records, appropriately named after that CMA-winning signature song, which celebrated risk and adventure. Much is familiar about Words. Evans' voice is warm and strong, the songs are authentic and memorable, and the actual words themselves resonate with the realities of everyday life.
Her resume now includes 14 Top 20 country hits, ranging from her reassuring first #1 – "No Place That Far," featuring background vocals by Vince Gill – to the neo-traditional "Suds In The Bucket" to the elegant, spiky pop feel of "Slow Me Down."
But Evans has been expansive in other parts of her public life, too. She's co-authored a trio of books for Thomas Nelson; advocated on behalf of the Red Cross; became an active contributor to the community in Birmingham, Alabama, where she's lived with husband Jay Barker for nearly a decade; and established a lifestyle blog — A Real Fine Place —that captures her flare for fashion, beauty and cooking. That blog also demonstrates that she understands, and lives, the solid, practical American work ethic that's alive and well in her fan base.
"I don't use that word a lot, resilient, but I would say that's the best way to define me as a person," Evans says. "I feel so blessed, but at the same time, there's blood, sweat and tears in every single thing that I've gotten in this life. I have gone out and just really, really sold it, and I'm still doing that to this day."
Doing it her way. As a mom. As a record company entrepreneur. And, mostly, as a distinct artist still excited about her unique journey.
To learn more about Sara, visit saraevans.com.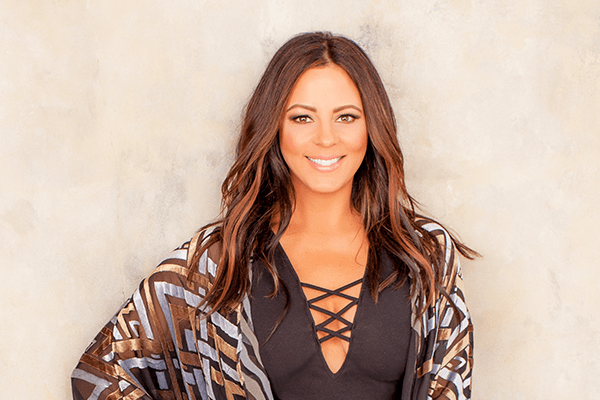 Disclaimer:
Etix is the only authorized ticketing partner of Wisconsin State Fair Park (WSFP). The State Fair Ticket Office and Etix (accessed via the WiStateFair.com or Etix.com websites) are the ONLY authorized sources for State Fair Main Stage Tickets.
If you purchase tickets from any other source, WSFP cannot guarantee the validity of the tickets and you risk being denied admission, refunds and/or exchanges.